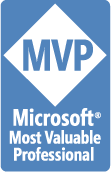 Hi all,
here's just a short info that I have received the Microsoft MVP Award again, my third in a row. Naturally, I'm very happy about it :-).
As always, stay tuned for interesting presentations, blog posts and/or magazine articles in the upcoming period. And thank you for following and appreciating my work!
Related posts:
Related posts brought to you by Yet Another Related Posts Plugin.